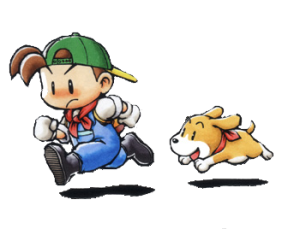 Plant crops, take care of cute little farm animals, cook, and find the love of your life! Dress up as the main Harvest Moon farmer, who made farming cool long before Farmville even existed. Tip: present a feather and other gifts to fellow cosplayers you wish to cheer up… or woo
Table of Contents:
Dress up as Harvest Moon Boy Farmer
Some other optional props to bring: a bell, a bucket, a fruit, etc. You can get some of your friends to dress up as the sprites too!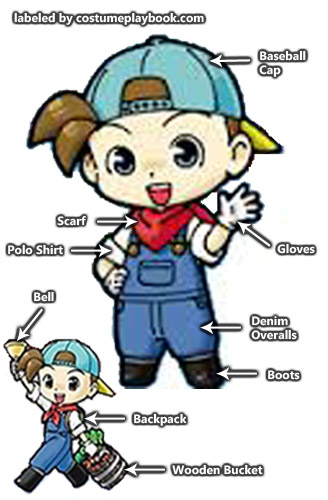 Blue Cap

Wear the cap backwards, and let some hair stick out

Red Bandana

Get a plain red banana and tie around your neck like a cowboy!

Denim Overalls

Get yourself a pair of denim overalls – the perfect outfit at the farm! For the inside shirt, a white polo shirt, or even just a plain white tee will do. Roll up the sleeves like the farmer about to get down and dirty with the crops

Backpack / Rucksack

Unfortunately, there is no magical backpack available which can store hundreds of crops at the same time, so a basic backpack should do

Black Rain Boots

A pair of utilitarian boots is essential when you're wading through mud, dirt, and soil

Harvest Moon Dog Plush

Here's a bonus prop: bring a plush toy of a harvest moon dog. He sports the same red bandana as you! Guaranteed to make everyone squeal from its cuteness
Dress up as Harvest Moon Girl Farmer
Girls should get a chance at all the farming fun to! In the latter versions, a female version of the Harvest Moon farmer was (finally) made available and she looks really cute in her farm getup. For your hairstyle, simply tie your hair in pigtails.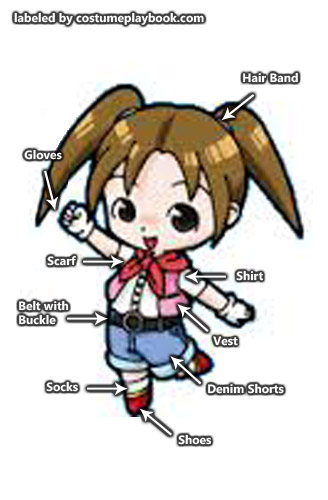 Red Bandana

Get a plain red banana and tie around your neck like a cowboy!

White Button Down Short Sleeved Shirt

Wear a simple short-sleeved white work shirt

Pink Vest

To spice up your work shirt, layer a pink vest! Keep the vest unbuttoned

Denim Shorts

Wear a pair of denim shorts. I'd say go for a longer / bermuda cut like this one. Pair with red sneakers and white socks.

White Gloves

Wear a pair of white gloves so you don't get your manicure dirty while you harvest your crops. Hmm… I wonder why she didn't opt for a more industrial-type of glove?
Trivia: The first Harvest Moon was released way back 1996!