Powerpuff Girls
Dress up as Ms. Sara Bellum (The Assistant)
Dress up as the very attractive and well-endowed (in both body and brain!) assistant of Mayor and be the envy of everyone! We rarely see her face in the show, except for one episode. Couples can dress up as the Mayor and Sara Bellum
Makeup: wear red lipstick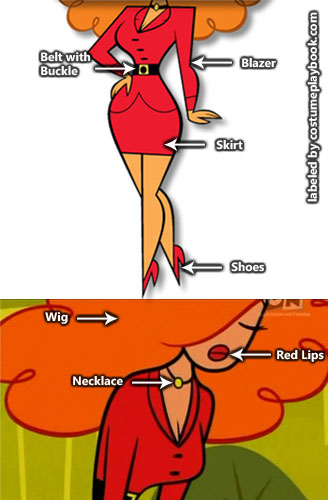 Orange / Ginger Curly Wig

She has orange curly hair. This wig is a good fit and was actually intended for Merida from Brave (a future costume idea, maybe, so you can reuse the wig?) Plus, it's gotten rave reviews!

Red Blazer

She wears an all red – blazer and skirt ensemble. Tip: make sure you wear a very low-neck top underneath the blazer, or don't wear any top at all if you want to mimic her very daring cut.

Red Pencil Skirt

A short red pencil skirt is perfect for the voluptuous Sara Bellum

Black Waist Belt

She wears a black belt with gold buckle on her waist. Here's a very stylish modern take on it that you can most definitely wear on any other day

Red High-Heeled Pumps

A nice pair of red pumps with pointy toes seals the deal!

Circle Pendant Necklace

This is optional. Notice how she wears a circle pendant necklace? You can mimic it by wearing a minimalist necklace like this one.
Dress up as the other Powerpuff Girls Characters
Click on the characters below to view their costume guides:
The Powerpuff Girls
The Other Main Characters