Powerpuff Girls
Dress up as Bubbles
Dress up as the adorable girl who's certainly as sweet as "sugar" – Bubbles!
Optional: wear light blue colored contact lenses and bring her best buddy, octopus stuffed toy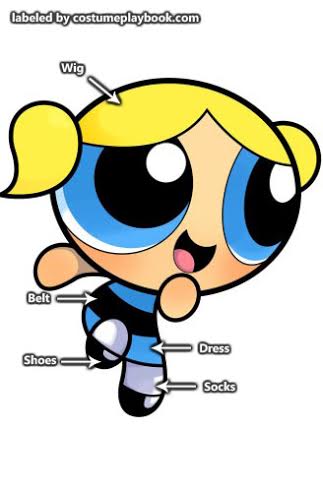 Blonde Pigtails

Blonde pigtails are very appropriate for the most adorable and timid girl of the bunch.

Blue Skater Dress with Belt

The Powerpuff Girls are drawn with very simple, sparse details. The good thing about that is you have a lot of freedom to choose what kind of dress you want to wear! Just make sure it's in a bright shade of blue. I chose this one because it already comes with a black belt (which you will need for each Powerpuff Girl) and because I think skater skirts are really cute and girly. You can also go as a more "adult" Bubbles by wearing a bodycon dress

White Knee-high Socks

Wear a pair of white knee-high socks or stockings then pair with the cute pair of ballerina flats below!

Black Ballerina Flats

A simple pair of black ballet flats is all you need for the shoes. It's a great wardrobe staple, too!
Dress up as the other Powerpuff Girls Characters
Click on the characters below to view their costume guides:
The Powerpuff Girls
The Other Main Characters