Recess (Disney)
Dress up as Gustav Patton "Gus" Griswald
Gus is a fearful little kid who isn't very popular in school. Ironically, he came from a military family. That being said, he does show off his leadership skills when the situation calls for it, and is quite the lean, mean dodgeball machine. To better look like Gus, consider getting a crewcut – very appropriate for someone coming from a military family.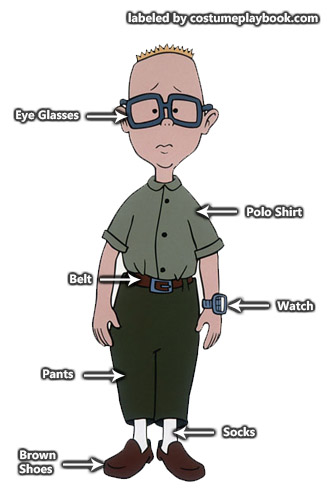 Eyeglasses with Thick Squarish Frames

Gus wears a pair of eyeglasses with thick squarish frames. This wayfarer should do the trick.

Green Button Down Shirt

Wear a green short-sleeved button down shirt. Fold the sleeves once to get the same look as Gustav's. Tuck the shirt inside the pants.

Dark Green Pants

Pair off with pants in a darker shade of green to keep with the military motif. You may want to fold the green pants so that the length is shorter than what you would usually be accustomed to. This is how Gus wears them.

Brown Belt

Wear a brown belt – I'm sure most of you have this in your wardrobe.

Brown Loafers

Brown loafers and white socks

Calculator Watch

Wear an old-school watch like this one.
Other Characters from Disney Cartoon, Recess