Recess (Disney)
Dress up as Vincent Pierre "Vince" LaSalle
The athletic jock in the gang, Vince unsurprisingly wears basketbal attire. If you like playing basketball then chances are you already has his outfit in your closet.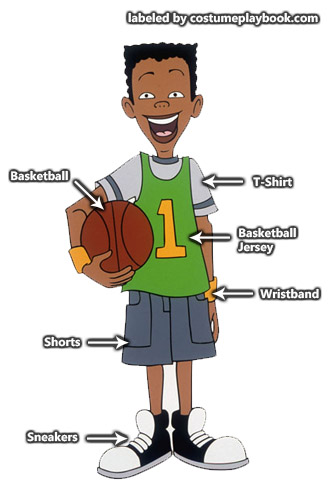 Green Sleveless Jersey

First part of the athletic outfit is a sleeveless green jersey. Underneath the jersey, wear a basic crewneck top. This jersey is awesome because it allows you to also customize what's written on it; so ask the seller to place the number 1 across the front of the jersey, preferably in gold yellow

Yellow Wristband

Wear yellow wristbands

Number 1 Iron-On

For added detail, iron-on a Number 1 on your jersey

Basketball

Bring a basketball as a prop

Basketball Shorts

Wear a pair of basketball-appropriate shorts. Finish off with athletic socks, and rubber shoes / sneakers.
Other Characters from Disney Cartoon, Recess