Dennis the Menace
Dress up as Margaret Wade
Additional effects: add some freckles on your face.
Personality: Know-it-all nagger who thinks she will marry Dennis some day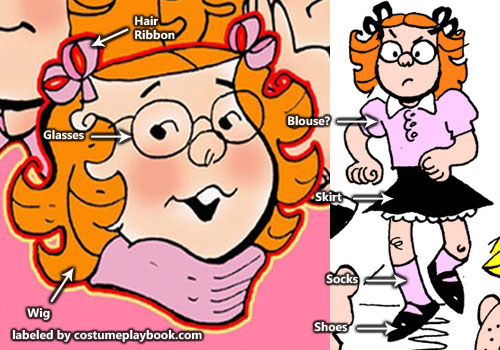 Round Eyeglasses

She wears a pair of eyeglasses with a very thin frame just like this one

Orange Wig with Curls

Margaret has orange hair with curls on the side. This wig, based on the photo, seems like a very close match! Take note though that there haven't been any reviews about the wig, but the supplier has had good reviews on their other wigs

Set of 2 Black Hair Bows

Attach a black ribbon on both ends of your hair / wig

Ruffled Blouse

Margaret's Blouse is a pink top with puffy sleeves. I like this one because it has ruffle details as well to give it a more girly look. Take note that the sizing of this runs small

Black Skater Skirt

A black skater skirt is a great choice – it has that nice flared look.

Lace Bloomers

Optional: underneath, you may want to wear a pair of lace bloomers and have the ruffled ends peek out a bit to mimic the way Margaret's outfit is drawn.

Black Flats

A pair of black flats such as these, which look kinda like Mary Jane shoes, fits the bill nicely. Plus, these shoes are comfy, too!
Table of Contents
Choose from any of the other Dennis the Menace characters below