Dennis the Menace
Dress up as George Wilson
Be sure to bring George's grumpy behavior along with you to the costume party! The retired salesman is often weary of Dennis' tricks since he just wants some peace and quiet! Deep down though, George probably considers Dennis as his grandson, and Dennis sometimes considers him as his best friend (kinda like Russell and Carl from Up)
Best buds can also dress up as George and Dennis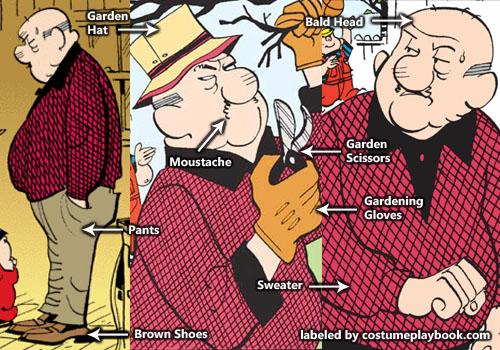 Bald Cap Kit

George is mostly bald with just a few strands of hair on the sides. You can mimic this by getting this kit, putting on a bald cap, and using some makeup to draw the strands. If you're not too keen on wearing a bald cap, see below

Gardening Hat

If you're not too keen on wearing a bald cap, here's an easy trick: just wear this gardening hat, which he wears on several occasions.

Gardening Gloves

Wear a pair of gardening gloves to complete the gardening look. You can even bring a pair of gardening shears!

Fake Belly Stuffing

George has acquired a bit of a belly through the years, and you can mimic that by buying this belly stuffing. Save this stuffing for other future costumes – Santa Claus perhaps? Homer Simpson? Lots of possibilities!

Red Long Sleeve Collared Top

For the top, he wears a simple collared top with red/black checkers. Only a plain colored one is available, but it should serve its purpose and get the message across. In fact, if you have any similar tops lying around in your wardrobe, feel free to just use that

Checkered / Plaid Long Sleeve Shirt

If you want a checkered top, you can go for this one, although this is a button-down, while George's top in the photo is a Rugby style shirt. For the pants, just wear a pair of chino trousers, and brown shoes.
Table of Contents
Choose from any of the other Dennis the Menace characters below