Dennis the Menace
Dress up as Dennis Mitchell
Dress up as the main guy himself – Dennis the Menace!
Couples can go as Dennis and Gina Gillotti. For a fun/crazy mix, you can also have a love triangle costume and bring in Margaret Wade.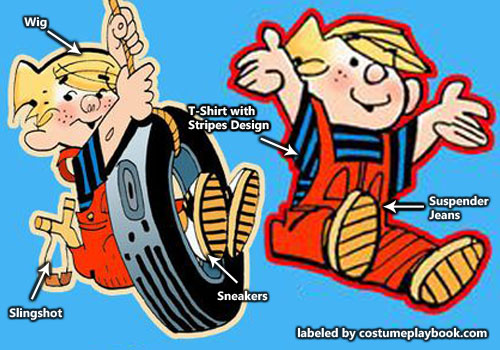 Short Blonde Wig

Dennis has short blonde hair, with the bangs almost covering his eye. In the movie adaptation, he basically just has short hair

Black / Blue Striped Tee

Wear a striped tee in the hues of black and blue

Red Overalls

Wear his trademark red overalls

Wooden Slingshot

Bonus prop: Here's a nice prop to go along with your costume – a wooden slingshot for all your sneaky tricks!
Table of Contents
Choose from any of the other Dennis the Menace characters below