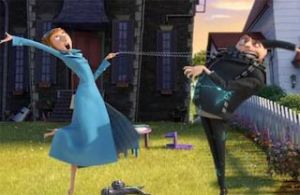 Gru and the minions came back with a bang for Despicable Me 2! Dress up as any of the old characters or as 2 new memorable characters – Lucy Wilde and El Macho.
Couples: dress up as Lucy and Gru!
Table of Contents:
Dress up as Lucy Wilde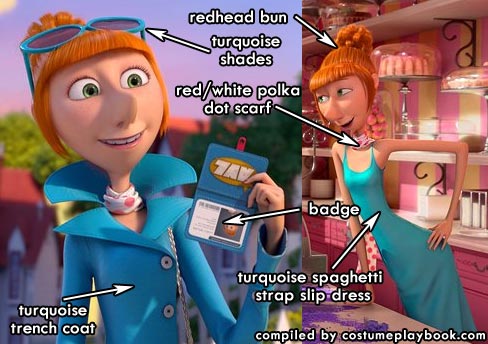 Lucy Wilde is one of the newest additions to the zany cast of Despicable Me 2. She's part of the Anti-Villain League and she asks Gru for help. She's got a few spy gadgets of her own such as the infamous… LIPSTICK TASERRR! Dressing up as Lucy is fun because she's fashionable and she's all about the color turquoise. A Lucy/Gru costume will make for a good couple's costume, too!
Turquoise Wayfarer Sunglasses

The girl is IN LOVE with turquoise! Even her frames are in this beautiful hue of blue




Turquoise or Light Blue Trench Coat

Ideally, a turquoise trench coat is best. A trench coat just seems to spell super spy all the time, especially when it has a faux leather finish like this one! You can definitely use it to look fashionable on normal occasions. The shade of this coat isn't 100% accurate but close enough!

Red Spots & White Base Scarf

Her red and white polka dot scarf adds a great pop to the outfit! You'd be surprised how hard it is to find a polka dot scarf where the dots are red and the base is white. For now, the opposite (red base, white dots) should do fine




Orange Wig

What could be a more lively combination than orange hair and a turquoise outfit? This wig is already bunned up and ready to wear

Spaghetti Strap Slip Dress

In one of the scenes, you see Lucy sporting a spaghetti strap dress in (you guessed it) turquoise
Dress up as Gru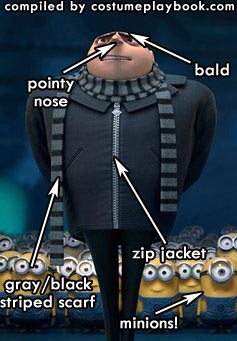 Gru is the central character of the movie and he's still donning his usual gray / black outfit. Get your wife or girlfriend to dress up as Lucy for a very awesome couple's costume.
Dress up as El Macho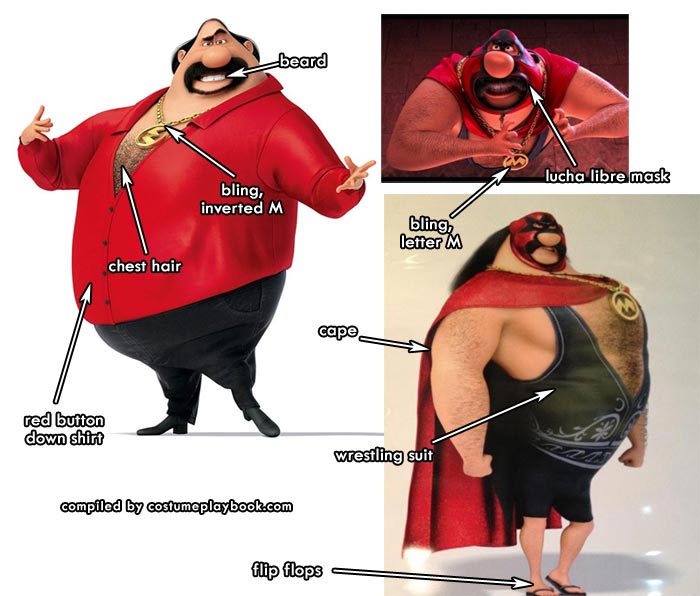 El Macho is the owner of a restaurant, but Gru swears he was once the notorious wrestling super villain, El Macho! He's a very over the top character so it would be quite a blast wearing an El Macho costume. Make sure you get the chest hair for that manly effect!
Fake Chest Hair

One of El Macho's distinct physical traits, and the sign of his absolute macho-ness, is his chest hair! You might need to trim this fake chest hair down a bit

Red Button Down Shirt

Wear any ordinary red button down shirt then open up a few of the top buttons to reveal the chest hair

Letter M pendant Necklace with Gold Chain

El Macho has some serious bling on his chest! Buy this affordable necklace, which already comes with the letter M pendant. It's not an exact fit, but the letter M comes with a circle around it and should get the look across




Fake Beard

This guy's got a lot of hair

Lucha Libre Wrestling Mask

If you wanna dress up as El Mecho during his super macho pre-restaurant days, then don a Lucha Libre mask, preferably red… Just like this one! Bonus: you can wear this when you dress up as Nacho Libre next time!

Wrestling Suit

He also wore a wrestling suit to show off his built… and hairy chest

Long Black Wig – Men

He also has long black hair during his wrestling days

Red Cape

And the finale? A red cape!
Did you Know?
El Macho was initially voiced by the legend, Al Pacino, but due to creative differences he was replaced by Benjamin Bratt. Kudos to Benjamin for doing a great job. It's rare to see him go over the top like this.