Big Hero 6
Dress up as GoGo Tamago
Look super cool as the bad-ass of the bunch – GoGo Tamago!
Extra prop idea: chew some gum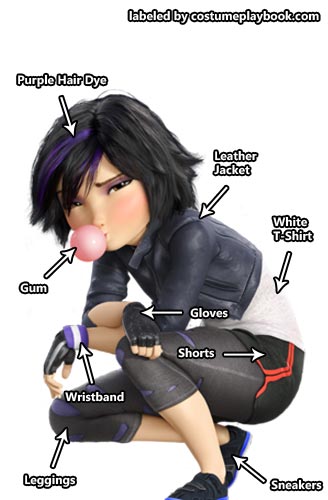 Short Wig with Spiky Layers

She sports a short wig with spiky layers at the bottom, just like this wig! The wig has also gotten quite a lot of good reviews.

Purple Dye

A few streaks of her hair are colored purple.

White Tank Top

Wear any basic white tank top. I would suggest one with a thin, heather look – which seems to be what GoGo is wearing.

Short / Cropped Leather Jacket

Now to look extra cool – wear a cropped black leather jacket! I can think of a thousand other times I'd wear a cropped jacket like this one.

Black Fingerless Gloves

What goes great with a biker jacket? Some biker gloves!

Purple / White Wristband

Wear a purple / white wristband on your right wrist, over your glove

Cropped Leggings

Underneath the shorts, wear a pair of cropped black leggings

Black Track Shorts

Wear a pair of track running shorts. I was pleased to see this piece had some red details like the one our speedy superhero wears!
Big Hero 6 Characters