Big Hero 6
Dress up as Hiro Hamada
The main protagonist is a genius inventor who creates the very thing that sets the story in motion. He has a very casual look going on that you can easily mimic. If you can bring a big cute white sidekick like Baymax, even better!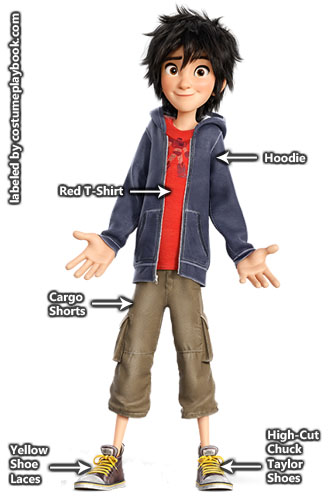 Short Wig

Hiro sports short hair with some spikes here and there, in different directions

Bluish Gray Hoodie

Hiro wears a zip hoodie in a bluish gray hue.

Red Robot Graphic Tee

Underneath the hoodie, he wears a red graphic tee featuring a robot / mecha. This isn't the exact replica but it's a very cool shirt with Japanese characters on it too, so I'm sure this is gonna work

Cargo Short Pants

He wears a pair of cargo short pants for that skater boy look.

High Cut Sneakers

He wears a pair of high-cut sneakers, with yellow shoelaces. Get yourself a pair of Chucks then replace the lace with the yellow ones below

Yellow Shoelace

Adds a bright pop to Hiro's outfit!
Big Hero 6 Characters