Big Hero 6
Dress up as Fred
The comic book enthusiast wears a super easy casual look.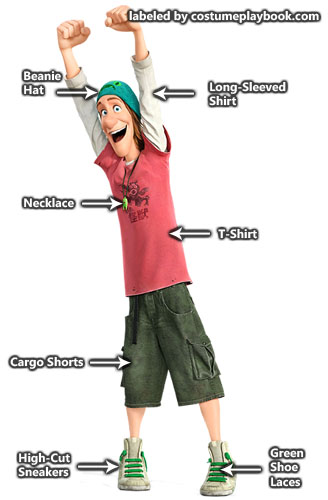 Monster Beanie Hat

His beanie hat is a nice shade of blue-green with eyes and mouth to mimic a monster. Someone finally made a replica of it! If you'd prefer to go for a plain hat though, feel free to do so as long as you choose one in a same shade of blue/green

White Long Sleeve Shirt

Wear a nice basic long-sleeved shirt like this one.

Godzilla Shirt

He sports a red shirt with his favorite kaiju on it. Again, an exact replica is not available but you can improvise with any tee with a graphic print of a monster. My personal choice – this tee with a print of Godzilla. The Japanese characters add that extra touch. I'm sure Fred must be a fan of Godzilla too

The color isn't spot on, but it's heather orange so it's still within the red family

Alien Necklace

He wears a necklace with a distinctly bright green pendant – is that a rocket / spaceship? An alternative would be this green alien head necklace, which matches his personality

Cargo Short Pants

Like Hiro, he wears a pair of cargo short pants. Ideally, wear it low

Green Shoelace

Get your favorite pair of sneakers (preferably high-cut), then use green shoelaces.
Big Hero 6 Characters