Ready Player One Movie (2018)
Dress up as Wade Owen Watts (Tye Sheridan)
It's super easy to dress up as the protagonist, the player behind Parzival. Couple costume idea: dress up as Wade and Samantha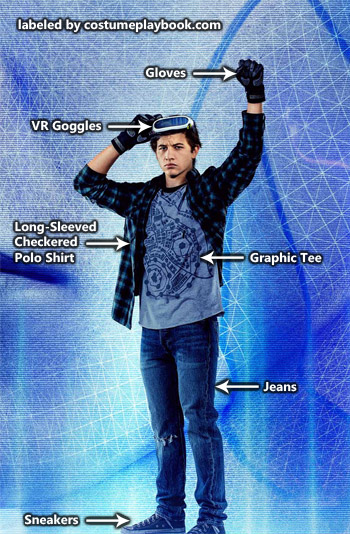 VR Headset

Don a VR headset over your head

Plaid Shirt

Wear a plaid shirt in a deep bluish/greenish hue

Black Gloves

He sports a pair of black gloves with some silver details. This pair is a cool find because it has a futuristic feel to it, with that power button printed on one finger

Wade Watts Graphic Tee

You can wear any basic grayish top but if you'd like the extra detail, I found this shirt based on the design on Wade's Stacks outfit. Some are guessing this is a map to Camelot, which would make sense, since his avatar is based on the knight, Percival. This isn't an exact replica, but it carries the look across nicely.
Other Characters of Ready Player One