Rurouni Kenshin – Movie and Anime Version
Dress up as Sanosuke Segara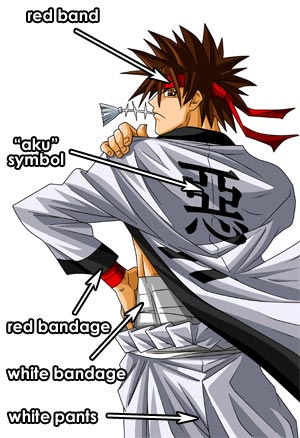 Sanosuke is my favorite character in the anime! Not only does he have a very good seiyuu (voice actor) – even in the English dubbed version, he also had a very big personality that was immediately seen when he first graced the show with his equally big weapon. As the anime progressed, we also got to see a lighter side of him. (picture taken from http://dbcproject.deviantart.com/art/Sanosuke-Sagara-184064426)
The movie version of Sanosuke wears the exact same outfit and is the comic relief throughout the film. I hope they add more of his serious side in the third movie!
Have your best friend dress up as Kenshin Himura
Sanosuke Cosplay Set

This is the perfect Sanosuke costume to wear! It has the "aku" Japanese symbol at the back, just like Sano's. Aku stands for evil and represents the creator's hate of the Meiji government.

White Hakama Kimono

Here's a great alternative: you can buy this white Japanese Hakama kimono and pair with white taekwondo or judo pants. Consider drawing the Aku symbol

Judo Uniform

This judo uniform set is a more affordable alternative to the cosplay replica. If possible, do draw the aku symbol at the back of your jacket!

Red Taekwondo Belt

Tie this on your forehead

White Bandage

Tie some white bandage on your abdomen

Red Bandage

Bandage your wrists down to the half portion of your arms with this red bandage
Aku Symbol
This is the Chinese character that is written on the back of Sanosuke's outfit: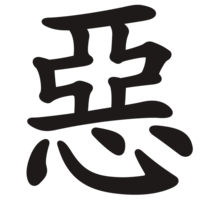 Table of Contents
Click on any of the characters below to view their costume guides.
The Good Guys
Oniwabanshu
Juppongatana