Scott Pilgrim vs. The World Costume Ideas
Ramona Flowers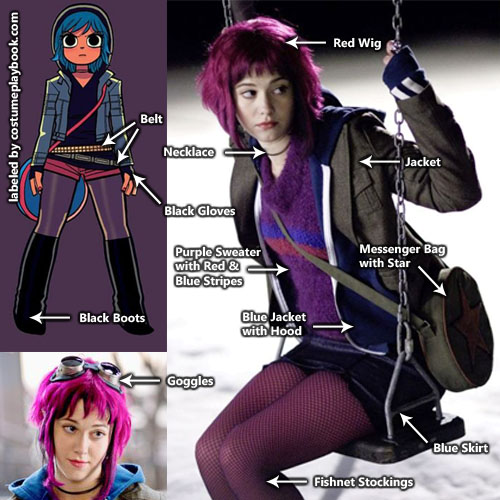 The enigmatic girl that stole Scott Pilgrim's heart and the person to thank for all the mayhem that made this movie happen. The Amazon "Ninja delivery girl" has seven evil exes – she changes partners as often as she changes the color of her hair. She is responsible for pretty much breaking the hearts of most of her exes because of her issues.



Ramona Flowers Pink Wig

Her pink wig seems to be the most iconic and recognizable hair color of them all

Steampunk Goggles

Wear this pair of affordable black goggles like you would a headband

Leather choker

This is made from genuine leather and 925 Sterling silver so it could definitely be a wardrobe staple after your costume event. You can choose among different lengths, so be sure to select the one that fits your neck just right.

Military-style Cargo Jacket

Ramona layers up with quite a number of jackets. The outermost is a military style cargo jacket. This piece online has the pocket details going on, an epaulet, and some extra studs to boot

Blue Fleece Hooded Jacket

Right underneath the cargo jacket is a blue hooded jacket. Make sure the hood is visibly shown over the military jacket

Fuzzy Eyelash Sweater

The exact replica of Ramon's violet with blue and red stripes isn't posted online but you can definitely substitute with any purple sweater – preferably one with a fuzzy texture (and turtleneck detail).

Dark Denim Mini Skirt

Any dark-colored mini skirt should do the trick!

Fishnet Stockings

Wear a pair of stockings underneath your skirt in a nice raspberry shade.

Ramona Flowers Star Circle Messenger Bag

My favorite piece – the bag! Her star messenger bag is very distinct and this bag is an awesome replica of that exact piece!

Winter Boots

For the shoes – winter boots! These look very comfy and reviews have been positive. They're priced reasonably too!
Table of Contents
Click on any of the other Scott vs Pilgrim characters below to view their costume guides.
The Protagonists
The Evil Exes