Scott Pilgrim vs. The World Costume Ideas
Dress up as Roxy Richter (Evil Ex 4)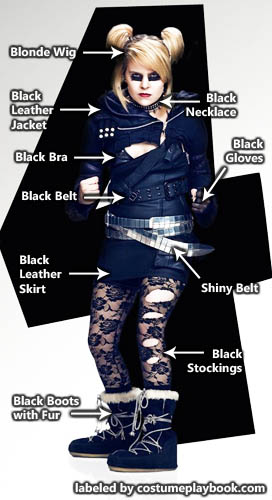 And Ramon's Evil Ex 4 is a guy named… oh wait, it's a girl! Don't mess with Roxy Richter – you know what they say, hell hath no fury like a woman scorned! Especially when she's a half-ninja chick born on the moon. Make sure you get some eyeshadow and draw thick outlines underneath your eyes like the photo above.
Blonde Pigtails

Don't let the pigtails fool you. This is a girl you don't want to mess with! Roxy's pigtails are shorter so you'll have to do some trimming on this wig

Black Choker Necklace with Metal Hardware

She looks even fiercer with her choker necklaces. She sports 2 – one is a black strap with some metal hardware (this piece) and another, below, is a metal spiked choker

Spiked Choker Necklace

Unleash your inner goth punk style!

Bra Top with Spikes

A portion of Roxy's bra peeps through underneath the rest of the ensemble. Seems to be black with some glitter. In other scenes, it's a black bra with metal hardware. You can wear this one with spikes to tie in with the choker necklace.

Black Cropped Moto Jacket

Roxy's jacket on the poster is actually a lot shorter and looking at it more closely, seems to be more of a cotton material than leather but this jacket carries the look across well

Leather Top

It seems like Roxy is wearing a leather top or dress with one of the straps unfurled to show her bra underneath. In this case, you can just unzip this corset top a bit to show the bra

Black Fishnet Gloves

She sports a fishnet glove on her left hand. Don't forget the black nail polish, too!

Silver belt

She wears a silver belt somewhere on her hips, which looks very distinct amid all the black pieces

Floral Black Tights

She wears a pair of floral laced tights. The best part? Get some scissors and make some rips on the left leg

Black Winter Boots

The final piece: a pair of black winter boots
Table of Contents
Click on any of the other Scott vs Pilgrim characters below to view their costume guides.
The Protagonists
The Evil Exes