Scott Pilgrim vs. The World Costume Ideas
Dress up as Matthew Patel (Evil Ex 1)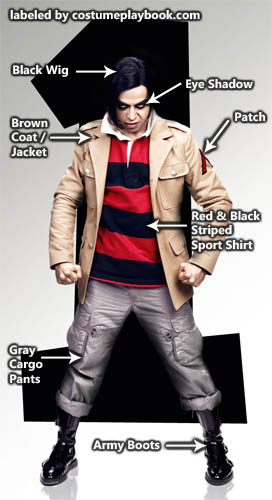 Game starts. First enemy: Matthew Patel, former seventh grade flame, and his legion of Demon Hipster Chicks! Be sure to lay on some heavy black makeup around your eyes to look more like Matthew
Rugby Shirt

A red and black striped rugby shirt is easy to find and definitely a useful piece in any guy's wardrobe

Khaki Military / Safari Jacket with pockets

The most distinct detail in Matthew's jacket is the presence of four pockets which this piece also has. This one is more casual than the one worn on the movie but for its reasonable price, it should be a good enough fit.

Red V Patch

There is a patch on his left arm like a red "V". This isn't an exact replica but it should carry the look across. This is an optional step. In my opinion, even without this, you should already look pretty rad as Matthew Patel.

Gray Cargo Pants

This dude has a LOT of pockets! He wears a pair of gray (or is it silver?) cargo pants. Roll the pants up to reveal his shiny black boots

Black Boots

These black boots will make you look fierce and get you ready for battle mode.
Table of Contents
Click on any of the other Scott vs Pilgrim characters below to view their costume guides.
The Protagonists
The Evil Exes