Scott Pilgrim vs. The World Costume Ideas
Dress up as Todd Ingram (Evil Ex 3)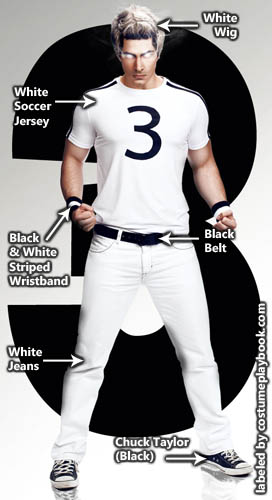 Evil Ex 3 is Ex-Superman… I mean, Todd Ingram! Donned in all white and with vegan powers, you should be very afraid!
#3 Jersey Shirt

The most distinct piece of Todd's costume is a jersey tee with the #3 written on it in big, bold, black letters. I guess it's to make sure he doesn't forget he's evil ex 3.

Iron-On Numbers for Jerserys

If you want to go the DIY route, you can just buy yourself an iron-on number then attach to a cheap basic white tee

Black and White Wristband

Like Scott, Todd is a fan of color coordination and wristbands
Table of Contents
Click on any of the other Scott vs Pilgrim characters below to view their costume guides.
The Protagonists
The Evil Exes