Dress up as Agent Carter and stand out in a crowd in your blue suit and red hat!
Dress up as Peggy Carter
Dressing up as the agent is pretty easy. All you need are a few key pieces and you're good to go! For your makeup, make sure to go for red lipstick. For the hair, wavy tresses would work best.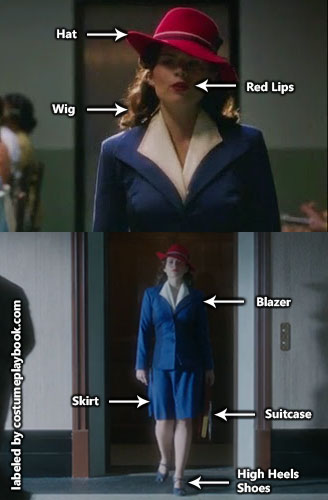 A look at her bag: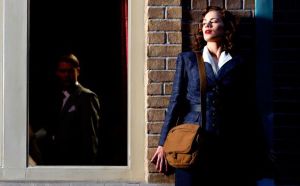 Red Fedora Hat

The first thing you need is a nice red fedora hat. To make it look more like Peggy's, use a thin dark blue ribbon and a thin light yellow ribbon and wrap around the hat. Attach by tying the ends together. You may also stitch onto the red band that is attached to the current hat for extra support

Blue 2 Piece Suit

Now for your suit – a beautiful, striking blue number. Wear a white blouse underneath, and let the blouse's collar show

Peep Toe Heels

Go for a pair of pumps for your shoes. In one of the photos, she wears a pair of peep toe heels. This pair is a gorgeous one; the stilettos would probably be difficult for her to run around in but as a costume, why not?

Flesh Stockings

A pair of nude-colored pantyhose for an even more refined look

Brown Satchel Bag

You may also bring around a brown satchel bag like she has done in several scenes

Walther PPK/S Pistol Gun

And for your prop – a pistol gun! One of the guns she's seen using is the Walther PPK, a handy pistol
Personal note: She kind of reminds me of Carmen SanDiego for some reason. The hat maybe? The mysterious allure?