Daria (MTV Animated Series)
Dress up as Daria Morgendorffer
Don't let the cynical, deadpan, non-conformist shell fool you – Daria is one stylish girl!
Try to be in character during your cosplay – say "Eep!" when someone mentions Trent.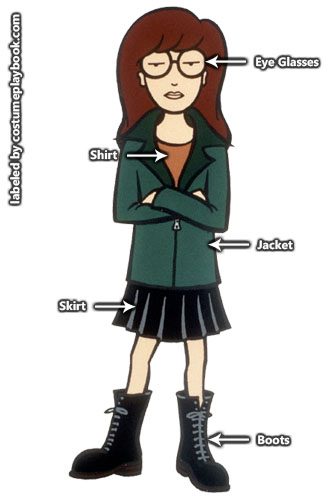 Thick Framed Round Glasses

Before Harry Potter came around, Daria was already rocking the round frames! The non-comformist wears a pair of glasses with a thick round frame.

Orange Camisole

Wear an orange top underneath the green jacket. Any style will do – all you need is that little pop of orange peeking from underneath her jacket

Dark Green Fleece Jacket

She wears a zip jacket without any hood. This fleece jacket is perfect if your costume event takes place during the nippy weather. Unzip a tad (to show the inner shirt) and fold the collar out. Don't mind the thumbnail – this link should lead you to a dark green piece.

Dark Green Cardigan Sweater

If you want a lighter / thinner material than the fleece jacket, then this polyester jacket would do the trick

Black Skater Skirt

She pairs her sweater with a cute pleated mini skirt. I'd go for this skater skirt – a versatile piece in your wardrobe

Black Lace Combat Boots

Finally – the piece that screams 90s in my opinion – a pair of black lace combat boots!
Other Daria Characters