Happy Days Costumes
Dress up as Lori Beth Allen
If you're thinking of a couple costume, then Richie and Lori Beth would be a sweet throwback idea! Lori Beth would later on be Richie's wife in the show. Her most distinct fashion style is the scarf around her neck.
Pink Turtleneck Top

Lori wears a pink turtleneck top in several episodes.

Neckerchief

She ties a neckerchief around her neck, tucked slightly underneath the turtleneck. The exact print isn't available but I say go for anything that rocks your boat – preferably a print with a sophisticated feel to it like this one.

Black Skirt

I can't exactly tell what kind of skirt she wears, and I don't remember anymore, but I would say it might be a full circle skirt since the movie was set in the 50s.
Here's a look at Lori and Richie together: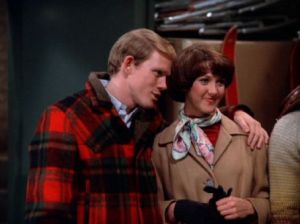 Other Characters from Happy Days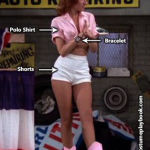 Carol Pinky Tuscadero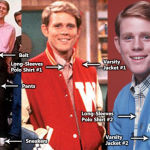 Richie (Ron Howard)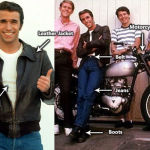 Fonzie (Henry Winkler)