Little Rascals (90s)
Dress up as Alfalfa
Who could ever forget Alfalfa's strange hairstyle? Be sure to get some gel and roll up a few strands of your hair to mimic Alfalfa's pointy do. Alfalfa's fashion style is pretty archaic (unless Larry King was his fashion inspiration) – bow tie and suspenders.
For couples: Get your girlfriend to dress up as Darla (costume guide here).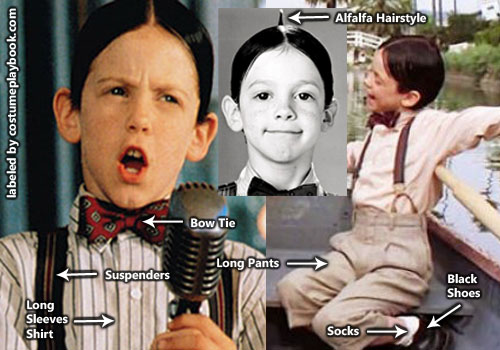 Red Bow Tie

His bow tie is red with a very grown-up pattern like this piece. Tip: you can

reuse this bow tie again by dressing up as any of these characters here

Suspenders with Button Clips

If you notice on the photo, Alfalfa's suspenders have these wishbone-shaped strap clips at the end that hook to the pants. This pair of suspenders fits the bill and is pretty affordable, too!

Light Pink Oxford Shirt

Wear a basic Oxford shirt – I'm sure most of you have one lying around in your office wardrobe already. For the pants, get a nice pair of slacks then fold the bottom until a little above the ankle, like Alfalfa's look. Then, wear a pair of white socks and black office shoes
Table of Contents
Click on any of the other characters below to view their costume guides.