The Breakfast Club
Dress up as Brian Johnson, The Brain (Anthony Michael Hall)
How easy can Brian's outfit get? It just involves some everyday wear pieces. As an additional gag prop, bring a ballpen and stick up your nose hehe! You may also wear a thin wristwatch on your left wrist.
Additional info thanks to BadgerBait: His socks have striped details on the top – one yellow, the other red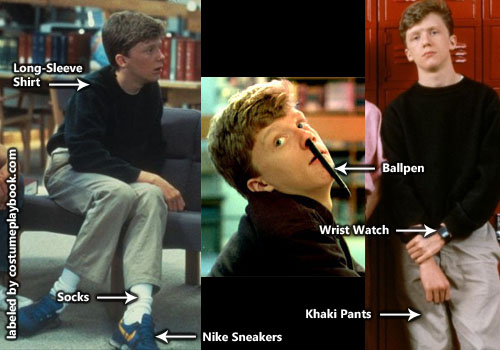 Green Crewneck Sweater

Just wear a basic green crewneck sweater, that you probably have lying around in your wardrobe already. Pair with some chino slacks and make sure your pants are a little too short and your white socks are visible

Blue Rubber Shoes

He wears a pair of blue rubber shoes.
Other Breakfast Club Costume Guides
Dress up as the other characters of Breakfast Club. Guides below: