The Breakfast Club
Dress up as John Bender (Judd Nelson)
The criminal really looks the part, wearing some very bad-ass clothing combinations. The good thing is you can most likely use all these pieces again for everyday wear! Okay, I admit – I had a huge crush on this guy!
Couples: Dress up as John Bender and Claire Standish
Tip: Bring a match as an extra prop. Plus points if you can light it with your teeth haha! (Adult supervision required)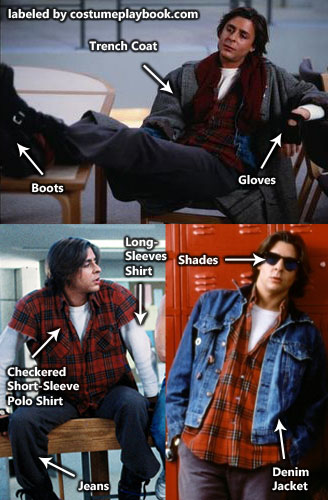 Red Plaid Short Sleeved Shirt

Make sure you wear a plaid shirt that isn't too tight as you will be wearing a long-sleeved top underneath

White Long-Sleeved Top

Wear a plain white long-sleeved top underneath the plaid shirt.

Denim Jacket

Over the plaid shirt, wear a rugged denim jacket

Fingerless Cowhide Gloves

There's always something rebellious about wearing a pair of gloves. Probably because it's associated with motorcycles. In any case, here's a pretty inexpensive pair that should help you look the part.

Sunglasses

In some photos, he sports a pair of sunglasses




Black Motorcycle Boots

Wear a pair of black boots, ideally motorcycle boots (they're not the lace-up type). Tie a red bandana around the right boot

Red Bandana

This bandana is big enough to wrap around your right boot. Based on the photo, John Bender's bandana seemed to have a white paisley print too

Gray Trench Coat

In certain scenes, he wears an unbuttoned trench coat then wraps a scarf around his neck. The man loves to layer and is such a stark contrast to Andrew Clark's outfit!
Then go to an open field and raise your fist!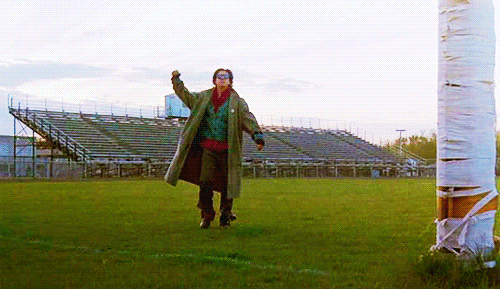 Other Breakfast Club Costume Guides
Dress up as the other characters of Breakfast Club. Guides below: