Scott Pilgrim vs. The World Costume Ideas
Dress up as Lucas Lee (Evil Ex 2)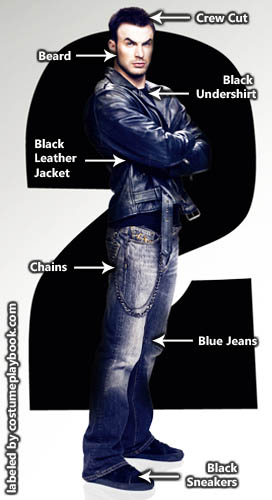 Ramona Flowers dated Chris Evans. How much cooler can she get?? Lucas Lee is a skateboarder turned cheesy action movie actor with some very distinct eyebrows going on. He also has a subtle beard which you can mimic with some black eyeliner. Or be a man and grow one!
Black Eyebrows (Quirked Upwards)

These fake eyebrows have that exaggerated quirk that Lucas Lee's has. You can also use black eyeliner pencil to mimic this

Moto Leather Jacket

This faux leather jacket is pretty affordable and looks good. You'll definitely feel like a pretty good kickass action rock star when you wear it.

Jean Chain

Wear a pair of relaxed fit faded jeans then accessorize with a fierce jean chain.
Table of Contents
Click on any of the other Scott vs Pilgrim characters below to view their costume guides.
The Protagonists
The Evil Exes