Brooklyn Nine Nine
Dress up as Charles Boyle (Joe Lo Truglio)
Boyle is my favorite character!!! He is just so funny and adorable… the ideal sidekick! His costume is super basic, but you can kick it up a notch and dress up as his memorable Season 1 look when he (and his behind) became a hero for protecting Rosa from getting shot. While dressed up as him, consider talking about food like he does.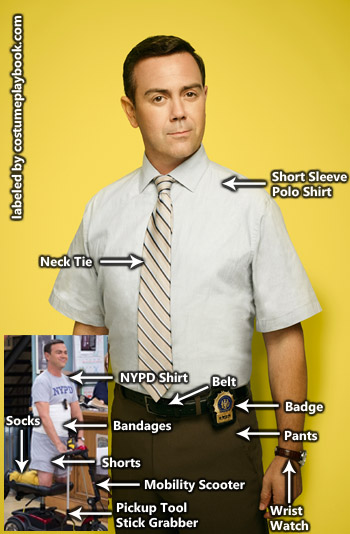 Short-sleeved Button Down

He looks like a regular office guy in his attire. Keep everything neat and buttoned

Necktie

Wear a wide striped necktie

Police Badge

Take off the chain and clip onto the belt

Slacks

Wear slacks with a more relaxed fit

Yellow Leg Warmers

Now, if you want to look like him in the "shot in the butt" episode, you can wear those awkward-looking leg warmers

NYPD Shirt

Wear a gray NYPD shirt

Gray Lounge Shorts

Wear a comfy pair of gray shorts

Bandage

Lastly, wrap this wide bandage around your waist over and over till it forms a bit of a thick padding.
Dress up as the other Brooklyn Nine-Nine Cops: