Daria (MTV Animated Series)
Dress up as Jane Lane
I love Jane's outfit. I'd wear it even outside a Halloween / costume party. And it just so happens the shorts-tights combination is a fashion trend these days
Makeup: red lips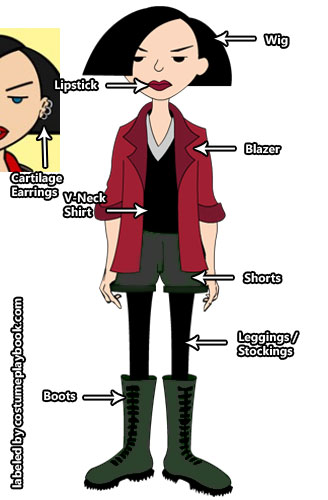 Short Black Wig

Jane's hairstyle is very unique. It will involve hair styling products to get that very fixed, almost triangular shape going on. Get one side of your hair to cover your face partially. To get it to look more like Jane, consider trimming the ends and giving it a very blunt cut

Cartilage Clip on Earrings

To get that punk touch, wear loop earrings on your cartilage. To avoid the pain of peircing, you can get these clip-on pieces!

Red Boyfriend Blazer

The boyfriend blazer is very cool and has a nice structured fit to it – perfect for the artist. Fold up the sleeves

Black V-Neck with White Trim

Look for a black V-neck top with white trimming on the neck area like this one.

Plain Black V-Neck Top

Or, you can get a plain black v-neck top. Optionally, you can use some white tape to recreate the V-Neck detail, but even without it, the look should come across instantly

Short Pants

Wear a pair of comfy casual short pants – fold to get cuff details at the bottom.

Black Tights

Now for the fun part, pair the short pants with black tights! I LOVE tights with short pants!

Black Lace Military Boots

The best friends both wear lace military boots!
* Source of photo (sans the labels): vinciini.deviantart.com
Other Daria Characters