Divergent / Insurgent Movie
Amity Faction
Think gypsy / boho fashion and earth tones when it comes to the Amity faction!
Table of Contents:
Dress up as Amity (for Women)
Boho gypsy is the name of the game for women of Amity! I have to say I find life as an Amity faction member to be the best – you get to live in a very nice, quaint piece of nature, and wear beautiful earth tones.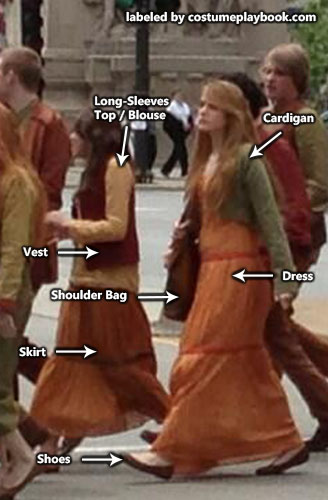 Tiered Maxi Dress

My first pick would be this gorgeous dress – it has a tiered hemline with subtle ruffle trimmings, just like the one on the picture above. At the same time, it looks absolutely perfect for a summer day, so you're sure to wear this piece outside your costume party / cosplay event. The only thing I'm not completely sold is the hue. The hue is lovely, but not as bright as the one in the movie. I still think it's a great catch from BCBGeneration

Orange Summer Dress

An orange summer dress like this one should do the trick as well.

Green Cardigan

Layer with an unbuttoned green cardigan.

Red Vest

Another Amity outfit option: Instead of a cardigan, wear a long yellow sweater over your dress (or pair with an orange maxi skirt), then finish off with an unbuttoned red vest / sleeveless jacket like this one (gives a very nice hippie vibe, don't you think?)

Red Flats

For the shoes, a pair of red ballet flats. Something comfy so you retain your peaceful demeanor
Dress up as Amity (for Men)
Amity boys stick to the deeper earth tones. Some wear vests or blazers; others, just a simple long-sleeve tee. For the shoes – either sandals, or rugged loafers or oxfords.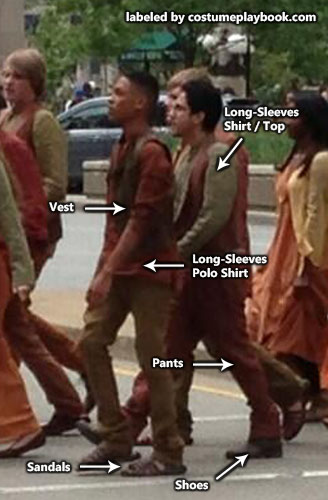 Red Vest

Here's a vest-type of cardigan you can sport. Keep it unbuttoned

Henley Long Sleeve Top

I would go for a henley long sleeve top because it has that outdoor vibe that fits the Amity faction perfectly. Plus, the shade of green of this one is just absolutely perfect! The link shows a perfect red version as well

Sandals for Men

The Amity sandals show a lot of straps just like this piece from Skechers
Other Characters and Factions of Divergent & Insurgent