Divergent / Insurgent Movie
Dress up as Tris / Dauntless (for Women)
Want to dress up as the Dauntless? Think black / dark shades. The faction's style is basically modern military with a touch of rock star. You can also wear Tris' sleeveless vest outfit during several scenes from the Insurgent movie.
Thinking of a couple costume? Have your man dress up as Four.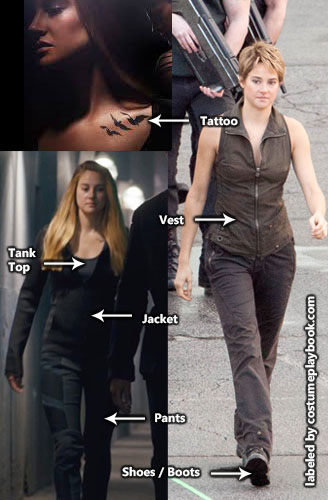 Sleeveless Leather Vest Jacket

This jacket looks awesome and even has a bustier to give it a structured look.

Tris Tattoos

Want to dress up as Tris? Then wear the three bird tattoos on your left, near the collarbone.

Black Sleeveless Leather Jacket

If you prefer a black jacket, then consider this piece.

Motorcycle Boots

Wear a slim pair of dark-colored pants and finish off with boots. These motorcycle boots will have you looking dauntless and fierce in no time!
Other Characters / Factions of Divergent / Insurgent