Jem and the Holograms
Dress up as Stormer (Misfits)
Stormer (Mary Phillips) is my favorite character in the Jem and the Holograms cartoon. She was the Misfit with a conscience, and I especially loved that episode when she helped out the Holograms.
Makeup: use a reddish orange hue for your lips, a bronze hue for makeup above your eyes. Using the same reddish orange hue, paint three straight slanted lines on your right cheek, and a lightning bolt on your left. Finally, get a black eyeliner and put a dot on your left cheek a little above your lips to act as a faux mole.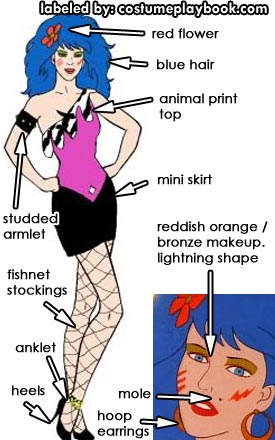 Blue Cosplay Wig

Stormer has bright blue hair like this one. This has gotten pretty good reviews from everyone, and I love the subtle wavy effect

Large Flower Clip

On her hair, she places a large flower (I'm not quite sure if it's red or orange, but either should be fine). This piece is around 3.75″ in diameter – just big enough to give a statement. I love how bright this clip's shade is

Asymmetrical Black and White Top

If you look at Stormer's outfit you'll see it's an asymmetrical (one-shoulder) piece which features a fuschia pink base, a Zebra-print design on the top, and a plain black pencil-cut bottom. There is no exact replica, as expected, but you can improvise with a one-shoulder Zebra-print top like this one. You can also wear a fuschia pink tube top on top of it for that extra pop of fuschia pink

Mini Skirt

Pair the zebra top with a tight hot pink mini skirt

Fishnet Stockings

Make your outfit extra hot by donning a pair of fishnet pantyhose stockings. Pair with black pumps.

Black Studded Band

Now, add some punk to your costume by wearing a black studded band. Stormer wears it on her right upper arm.

Gold Anklet

For extra glitz, get a gold anklet, and wear it on your right ankle like the Misfit does.
Other Characters from Jem and the Holograms Cartoon
The Holograms
The Misfits
The Stingers