Jem and the Holograms
Dress up as Minx (Stingers)
Another rival of The Holograms shows up in the cartoon – the Stingers band was featured in several episodes (I admit I'm quite the Riot / Jem pairing fan). The band's style revolved around the black and yellow motif. Ingrid "Minx" Kruger wears a very cute outfit, which would pass as modern fashion.
Makeup: a slash of pinkish orange above the eyes. Red Lips.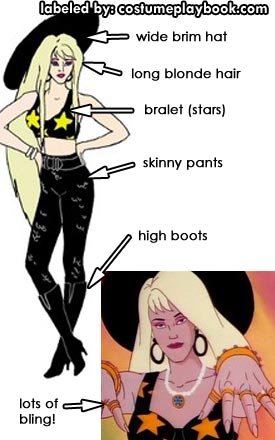 Black Wide Brim Hat

Minx wears a black wide brimmed hat.

Long Blonde Wig

She has very long, straight blonde hair. This wig looks really awesome based on reviews!

Black Bralette

Get a black bralet crop top. As expected, there isn't a star print that exactly matches Minx' print so just go for a basic black one.

Gold Star Pin

Then, get some gold star pins and pin around your top.

Star Fabric Patch

Even better, sew on some yellow stars on your top.

Black Skinny Pants

Get yourself a nice pair of hot pants. I'd go for something shiny or a faux leather fabric for a flashier look.

Black Heeled Boots

Now for my favorite part: some knee-high black heeled boots!

Necklace with Stone Pendant

She wears a necklace with pearls (or white beads) and a turquoise stone pendant. This piece is a pretty affordable one and has a nice looking pendant that adds an air of mystery to the backup vocalist. If you want to do some DIY, you can change the chain with a faux pearl strand.

Cheap Gold Rings

Bling up! Wear as many gold rings as you possibly can on every finger of your hand!
Other Characters from Jem and the Holograms Cartoon
The Holograms
The Misfits
The Stingers