Jem and the Holograms
Dress up as Roxy (Misfits)
Misfits Bassist, Roxanne "Roxy" Pellegrini is the tough bad-a** off the group and her outfit reflects that personality.
Makeup: mimic a flame-like shape on her eyes, using light purple and light orange (yellow gold). Use the light orange makeup to paint three slanted lines on your right cheek (like Stormer). On the other cheek, an edgy light purple shape like Pizzazz'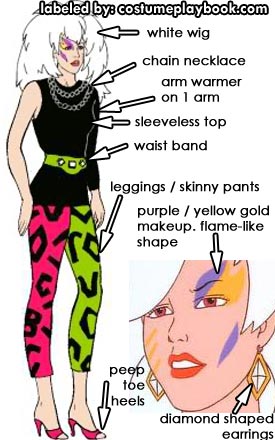 White Wig

Her hair is stark white and it is a beautiful, striking contrast to her black top! I'd go for something with curls like this one. If you can tease it further, even better

Black Sleveeless Shirt

Wear a basic black sleeveless shirt

Black Sleeve Extension / Arm Warmer

Now for the fun part. On your left arm,wear a black arm warmer so that it looks like your shirt has only one sleeve.

Chain Necklace

Wear chain necklace. Ideally, buy 2 (one 24 inch long and another around 18 inches long) and then layer it out. You can easily choose the length you want once you go to the item page

Bright Colored Leggings

An exact replica of the bottom is nowhere to be found but this pair of two-toned hot pink / bright yellow definitely has the 80s vibe to match Roxy's!

Neon Green Waist Belt

To add an extra pop of color to your top, wear a neon green waist belt like this one. The shade is a perfect match!

Fuschia Peep Toe Heels

The heels are at a pretty comfortable height, too!

Diamond Shaped Earrings

These are perfect for that edgy, kitschy touch!
Other Characters from Jem and the Holograms Cartoon
The Holograms
The Misfits
The Stingers