Jem and the Holograms
Dress up as Rio Pacheco
Rio's most distinct outfit is a pretty simple casual look. Want a cute couple costume idea? Have your sweetheart dress up as Jem! Minx also has a crush on Rio, so you might want to try out that unconventional couple costume idea.
Note: is it just me who finds it strange (and annoying) that Rio likes both Jem and Jerrica??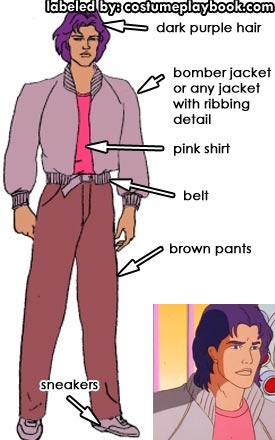 Gray Bomber Jacket

The ribbing details on his jacket in the photo above suggest that it is a bomber jacket. Keep the jacket unzipped / unbuttoned.

Coral Crewneck T-Shirt

Get yourself a basic crewneck shirt in a coral shade. You can also check out the Azalea shade of this product from Fruit of the Loom. Pair with brown trousers and sneakers and you're good to go.
Other Characters from Jem and the Holograms Cartoon
The Holograms
The Misfits
The Stingers