Jem and the Holograms
Dress up as Jetta (Misfits)
Black and white is the name of Sheila "Jetta" Burns' game. The saxophonist's outfit is a fun mix and match of patterns and prints in the monochrome tone.
Makeup: I love Jetta's makeup the most. A very light, powder blue zig zag pattern is painted across her face, from her right cheek towards her left forehead. The same powder blue is used above her left eye in a leaf shape. Finally, she uses pink lipstick.
Shoes: Black high-heeled pumps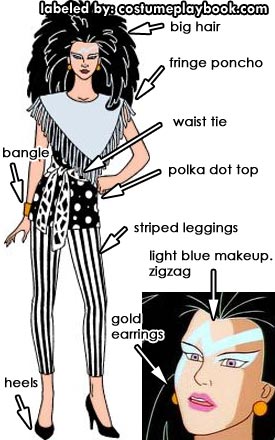 Big Black Spiked Wig

With copious amounts of hair spray and some teasing action, you can coax your natural hair into a bigger volume, but you can also opt for a spiky wig like this one to instantly add that body and punk you need.

White Fringed Poncho

Go for a white poncho with fringe details, preferably one that is not too long. I think this one is just the right length and the butterfly heart crochet design may look very dainty on its own, but paired with the rest of Jetta's outfit should add an interesting ironically punk touch to it.

Polka Dot Tunic

I chose this black / white polka dot tunic because it's long enough and has a pretty straight cut to it, which is perfect because you will be cinching your waist with a scarf below.

Black and White Scarf

Get a black/white printed scarf and tie around your waist. I chose this animal leopard print to jive with the animal print influence on Pizzazz and Stormer's costumes.

Black White Vertical Striped Pants

Now go for a pair of vertical striped pants, which reminds me of Robin Thicke's "Blurred Lines". I chose these skinny jeans because it has the best reviews among all.
Other Characters from Jem and the Holograms Cartoon
The Holograms
The Misfits
The Stingers